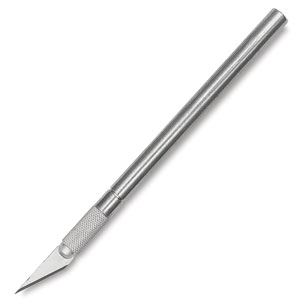 Le X Acto est le cutter le plus utilisé concernant les grips cut, car il est d'une précision géniale. Il permet de réaliser des motifs précis, c'est pourquoi si vous voulez vous lancer dans les cut grips il est indispensable. Vous pourrez le trouver entre 3 et 7 € dans votre papeterie préférée, normalement.
Le Dr.Tiki de NEPTUNE
L'intérêt des cut grips est de rendre le mod beaucoup plus beau.
Les cut grips demandent patience et minutie pour être parfaitement réussies.
Voici comment faire une cut grip :
– Prenez un stylo pourri ou le grip rentre plus ou moins aisément. En fait il ne faut pas abîmé le grip et ne pas le laisse se balader non plus.
– Prenez le grip et mettez le sur le stylo.
– Faites un patron, c'est à dire dessiner les motifs, sur votre grip avec un stylo à encre gel : Les HGG et les Signo Broad blanc sont très utiles pour cette tâche ( Prévoyez de préférence à l'avance comment sera votre grip cut, cf le dessin du Wasp Mod de Neptune ).
– Prenez votre scalpel ( et votre temps ) et appuyez sur un des coins assez fort (pas besoin de beaucoup le scalpel a papier c'est très précis et ensuite faites les contours avec la même force.
Cutter à éviter ! Ce n'est pas aussi précis qu'un scalpel à papier et c'est pas extra niveau forme et lame.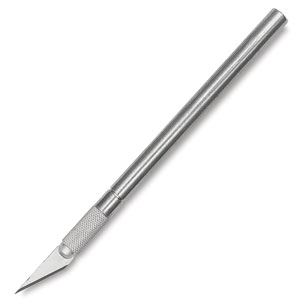 The X-Acto  is the most used knife to make grips cut, because it is of great precision. It allows for specific reasons, so if you want to get cut in the grips is essential. You can find it between 4 and 9$ in your favorite stationery, normally.
 Dr.Tiki of NEPTUNE
The grips cut interest is to make the mod much more beautiful.
The cut grips require patience and precision to be perfectly successful.
How to make a cut grip :
– Take a pen or rotten grip fits more or less easily. In fact it should not be damaged grip and not let him wander either.
– Take the grip and put it aobve the pens.

– Make a pattern, ie draw the patterns on your grip with a gel ink pen: The Signo Broad and HGG white are very useful for this task (preferably Plan in advance how your grip will be cut, cf  drawing of Wasp Mod of Neptune ).
– Take your knife (and your time) and press one of the corners hard enough (no need for the scalpel has much paper is very accurate and then do the edges with the same force.
Cutter to avoid! It is not as precise as a scalpel and paper is not extra level shape and blade.